KickAss Radio with Jo Sainsbury
KickAss Radio with Jo Sainsbury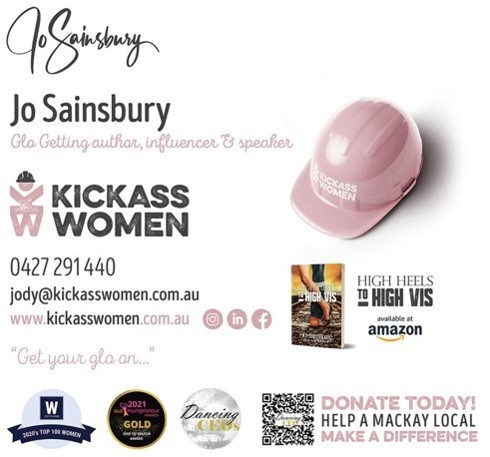 Talk Show Program Archives for Podcasting
| | |
| --- | --- |
| KickAss Radio, October 20, 2022 | Guest, Danni Vee, author, speaker, personal trainer and mind body mentor |
| KickAss Radio, August 11, 2022 | Guest, Nikki Berzin |
| KickAss Radio, July 21, 2022 | Guest, Ronnie Benbow |
| KickAss Radio, June 30, 2022 | Guest, Hacia Atherton |
| KickAss Radio, June 2, 2022 | Guest, Alanna Ball |
| KickAss Radio, May 5, 2022 | Guest, Fiona Holstrom |
| KickAss Radio, March 17, 2022 | Guest, Emma Willmann |
| KickAss Radio, March 3, 2022 | Guest, Naomi Radke |
| KickAss Radio, February 17, 2022 | Guest, Lisa Fogarty |
| KickAss Radio, February 15, 2022 | Guest, Anna Doktor |
| KickAss Radio, February 10, 2022 | Guest, Hayley Aylott |
| KickAss Radio, February 3, 2022 | Guest, Jenny Matthews |
| KickAss Radio, January 27, 2022 | Guest, Mel Watt |
| KickAss Radio, January 20, 2022 | Guest, Genene Wilson |
| KickAss Radio, January 6, 2022 | Guest, Elissa Scott |
| KickAss Radio, January 4, 2022 | Guest, Katrina Wurm |
| KickAss Radio, December 30, 2021 | Guest, Wendy Marquenie |
| KickAss Radio, December 16, 2021 | Guest, Carol Aravena |
| KickAss Radio, December 2, 2021 | Guest, Genevieve Searle |
| KickAss Radio, November 30, 2021 | Season 2 - Episode 59 - with Leanne Kanzler |
Show Host: Jody Sainsbury
Queensland
Australia
Occupation:
Train Driver, Author, Speaker, Advocate for Women in Non-Traditional Roles, Founder of Kickass Women AND Radio Show host for Kickass Radio
Biography:
MEET JO SAINSBURY!
Jo Sainsbury is the definition of a go-getter, or as Jo likes to call it, a 'Glo-getter'. This is in reference to working in Industry & donning High Vis, a uniform that Jo is proud to wear.
After working over 30 years in the corporate sector, Jo kicked off her heels and became a coal train driver working in the rail and mining industry!
The transition into a male dominated industry was no easy task. Jo had no contacts, no experience, and barely knew anything about the Industry or how to apply.
It is for this very reason that Jo Sainsbury founded Kickass Women in 2019, making it her mission to empower and support women who are considering a career change into an industry role, and helping to make their transition as smooth as possible.
"I'm a big believer in inclusion and diversity and I strongly believe that more women should consider non-traditional roles and careers, just like I did 8 years ago!"  - Jo Sainsbury
After some time in her new role as a coal train driver, Jo recognised that there was a huge disconnect between women's perception of a job in Industry, and reality! Jo became conscious that many women perceived that a job in industry was either unattainable or unattractive, and so Kickass Women was born - to educate women that the leap wasn't as big as they thought, and that these roles were worth pursuing!
Learn a bit more about Kickass Women!
DID YOU KNOW THAT JO SAINSBURY IS A PUBLISHED AUTHOR?
Jo Sainsbury's book 'High Heels to High Vis' has been named an Amazon #1 Best Seller! Jo writes about her transition from the corporate sector into the world of Hard Hats and Hi Vis as a guide for women who are considering a non-traditional role within the Rail, Mining, Resource, STEM and Construction Industries. 'High Heels to High Vis' can be purchased from most leading book stores including Amazon, Dymocks & Waterstones!