Al Gore and all sorts of Change Swindlers should be exiled to Oymyakon for real-time studies.

"Hi Folks, how're ya chewing?"
Extreme cold temperatures are frequently recorded during winter months in
Oymyakon
with temperatures regularly dropping below −40 °C (−40 °F).
In 2008
temperatures were observed well below this temperature,
with −60.2 °C (−76.4 °F) recorded
on both the 19th of January and 22nd of December
http://en.wikipedia.org/wiki/Oymyakon

Coldest City On Earth
http://www.educatedearth.net/video.php?id=3958

The Pole Of Cold Festival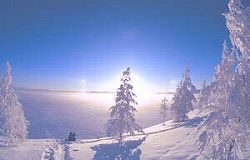 the COP15 logo
subliminal message of a cold sun?

***