Solve (salve=heel)) the underlying conflict. Help the body to recover. Julius Hackethal (DE) dealt human Pet Cancer and treated humanely. Medfakers tried to hunt him down and silence his voice. *PIC*
I met him personally in the seventies.
famous quote
"Ich habe keinem einzigen Patienten geschadet, nur mir."
"I did not do harm to any one of my patients, but only to myself".
He called his colleagues from the established cancer mafia faction names like:
Desktop Killer, Medicine Criminal, Mutilation Experts, Charlatans.
He postulated as a rule for his colleagues:

"Treat every patient the way you would treat your best friend".

His main reproach to scholar medicine was:
too much surgery, too quickly done, most tumors are not life threatening and disappear after awhile when treated without chemotherapy, especially breast and prostata tumors.
Unfortunately he opposed Dr. Geerd Hamer who postulated similar thoughts.
Sorry, infos by now only in German, please try online translation.
http://de.wikipedia.org/wiki/Julius_Hackethal
Private Clinic in Bavaria Lake Chiemsee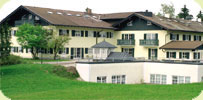 Julius Hackethal 1921-1997
(died of lung cancer, smoker in early years?)
Hackethal books listed in the German National Library
46 Publications
some more links
http://alt.nntp2http.com/flame/2009/10/71387d3fc1f22f74b9a8c4fb9d83262c.html
http://product.half.ebay.com/_W0QQtgZinfoQQprZ4832475
http://www.bionity.com/lexikon/d/Julius_Hackethal/
http://news.doccheck.com/de/article/149862-do-you-remember-julius-hackethal
another German
'Provocateur and Troublemaker'
Lothar Hirneise see text in English
Treating Cancer Naturally

In Memoriam Julius Hackethal



http://www.youtube.com/watch?v=WYBtQUvFY5Y


Mistletoe